I posted the 1st part of this subject a while ago and now it's time for pt 2~
The Duo
I personally am in a crime slump so I don't know how to build this. It'll be serious and it will be dark with good amount of twists that aren't overwhelming or super expected. That's why I thought about maybe making this a sci fi would make it better, but it won't be Alicelevel of sci fi. xD
Lee Kwang Soo will have a reversal type of dark villain role, while Woo Do Hwan and Jang Dong Yoon are the dream detective team. ❤ I suddenly remembered that Happy Together: Season 3 episode of Kang Ha Neul and Kim Seul Gi together and I just needed to fit them into the cast. xD
I noticed the lack ofSeo Ye Ji in my article, so I'll add her here as another villain. ;D Plot twist, she's a cop. xDSeo Ye Ji will be Jang Dong Yoon's fiancé, and Jung Eun Ji will be paired with Woo Do Hwan but the romance isn't a main point.
The Heist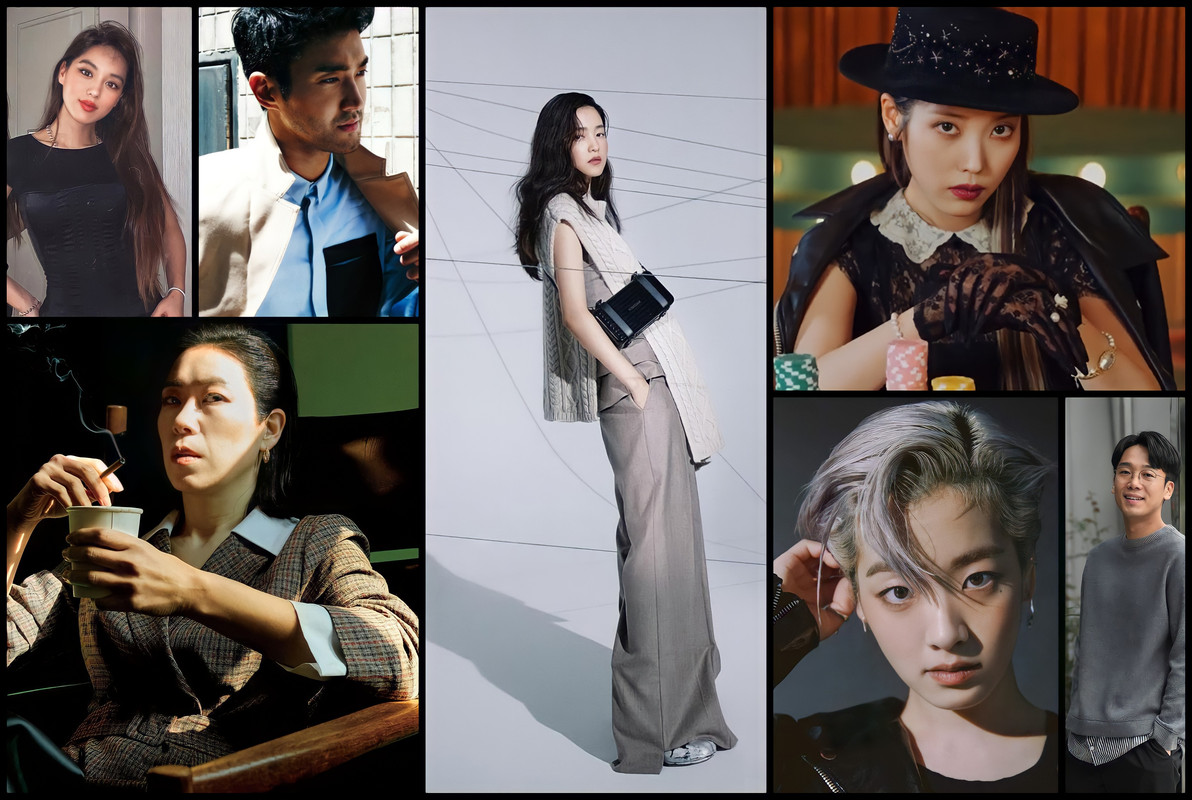 By this point, I've lost my creative juice but I love a good heist, not evil, "bad" guys type of thing. This would be a team of unexpected players brought together by Yeom Hye Ran and IU to steal things. Maybe they'll steal things from evil bad guys as part of a revenge scheme for each of the main characters, so every two episodes would revolve around one of the heists. While Kim Min Kyu, Yoo Yeon Seok, and Jung Yoo Jin are the cops chasing the team.
I just wanted to add more to that "bad guy" action type of shows and to have a more female centered cast. And if I had to add Woo Do Hwan in this, he would be a "villain" and Kim Hee Jung's brother.Choi Shi Won is in a romance with IU, and Kim Tae Ri will relive Mr Sunshine SLS with Yoo Yeon Seok just because I want them together. xD
1930s
After seeing both IU and Baekhyun's newest solo music videos, I couldn't help but see the similarities (i.e. the train and the "gangsta" vibes) so that soon I wished for a somewhat "reincarnation" or better yet, a do-over of Hae Soo and Wang Eun. Now IU's video is inspired by 70s style, but we're getting Snowdrop and maybe Oasisso it's nice to get more things in the 30s, like even a Mr. Sunshine sequel type.
This could be somewhat historically accurate, and since I'm not too knowledgeable on Korean 30s history, I'll leave the plot mostly empty. xD
In Moon Lovers, Baek's character was a cutie teen, but I'm sure if they let him be 1 % of his real, calm self (behind the cams), he'd nail the serious type well.
*Romance is between IU x Baekhyun, Woo Do Hwan x Stephanie Lee, Kim Da Mi x Jang Dong Yoon.
Historical Musical
After watching the latest ep of I Can See Your Voice: Season 8, I realized something. Kdramas never did a historical musical! Sure, the closest thing to a musical I can remember was Dream High, but beside also wanting a modern Korean musical, a historical one would be AMAZING. It could be a somewhat actually accurate story about the origin of Pansori and if the timeline matched, the other traditional instruments of Korea. And tbh, this is the ONE I need Kdrama writers to notice. Kwon Ik Hwan's voice was so addicting and since it is inspired by him, I'll gladly "cast" him as the Main ML.
Just because of this CLIP from The Tale of Nokdu, don't mind me while I mention Jang Dong Yoon and Kim Tae Ri again as the main couple here. xD This would be another thing I wish Kdramas tried more often, the 1st ML is a stand alone character while everyone knows the romance revolves around the 2ML and 1FL.
Also, I'll add Seo Ye Ji and Kim Ji Soo because I need them in a historical (beside the fantasy one) and I found Jennie in a hanbok while searching and I just had to add her!
ICSYV also had many talented female traditional singers so we can have more talents~
*Click on the gif for the performance.
EXO the Movie
EXO's concept is honestly one of the best in Kpop and just like how they have their own comic, I wish SM would make it into a movie, of course with the members acting as themselves.
It could be a great 10th anniversary special, showing everything from MAMA till Power while also adding Lay's parallel universe theories, and they could finally give us answers!
The fans already know the basic story, EXO come from EXOPLANET and each of them possess a power, then the dark force comes into play and they try to capture EXO. SM did a great job complimenting that into each comeback but we need the big story! And we need super high quality special effects to make EXO's "embarrassing" powers shine. xD
There might be a few sudden musical numbers, just because. xD

While making these stories up, I could feel the pressure of the real writers. When @The Butterfly asked me about setting and conflict, my first reaction would be "I'll add mystery", but I always hated that random murderer on the loose. So the question is, what's a good conflict that drives the story?
I could get away with "it's a slow burn slice of life" with Fashion Runway, but I can't reuse the same move. I guess even though I criticize a lot, I'm still not a professional writer myself and it's really hard, but then again all those Kdrama writers actually do it as a profession so I guess they should still try to be better than me. xD
I never really tried to learn the actual basics of script writing, but I just love making up stories. I also felt bad about casting big names as side characters, but something we never do on MDL Production is to treat our sides as time fillers, we treat them as solid characters with real purpose. ;p
Therefore, even if I'm not 100 % sure on the progress, things you'll never find in MDL Productions would be: random mystery, past connections, bickering couple (not to be mistaken with enemies to lovers), sudden corruption (well, any real politics hopefully), inevitable episode 14 – 15 breakup, evil father/mother/uncle/aunt, type casted main leads, and well, actual hope for any of these to be made in reality. 😉
Though if anyone with real connections to the industry sees this, don't hesitate to DM me and I'll sell the rights in exchange of only supervising the overall drama while getting paid the 5 star hotel room and the expenses of me going to Korea (or a chance to come on set everyday xD). Am I writing another fanfic here? ;p